On 1st 2nd of October London link group didn't go to Salisbury!
With the lead organiser of the advertised Salisbury event put out of action by a London hire bike accident (he's on the mend), at the last minute we called upon our Friends at BYM/Friends House and Muswell Hill Meeting to come to our aid and help us create a new event. And that they did!
24 young people and 5 staff volunteers gathered at Friends House, London. We used the main meeting room for name games and a bit of re-introductions for the weekend. After this David Irving showed us around the library and took two groups down into the archives to look at some of the huge collection of books, leaflets and other documents going back to the 1600s that have been lovingly preserved.
A highlight was seeing the original books of sufferings, which are the records of all the Quakers who 'suffered' for their Quaker beliefs, such as not paying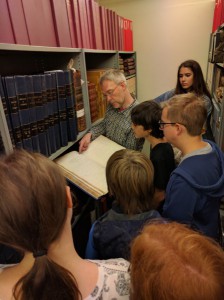 their tithes to the Church and ending up being fined or imprisoned for it.
We also took a quick tour of the offices of BYM and heard a bit about all the different programmes and work from Sam Walton and Georgina Bailey …and from unsuspecting members of staff passing through!
We had a good lunch at the Quaker Cafe and then a treasure hunt game around Friends House, looking for answers to questions such as "Which other Quaker organisations have offices at Friends House" to "What time is the fire drill practice". Once all the answers were found we headed up to Muswell Hill meeting.
From there we made the short walk across to Highgate Woods where we played Frisbee, messed about on the swings and generally let off a bit of steam. Back to the meeting house and it was time for dinner. After we cleared up, we split into two groups, one group played the cereal box game and another played my new favourite: newspaper hockey.

We had some hot chocolate before an epilogue and then bed.
On Sunday we had a great cooked breakfast which set us up well for either going into Quaker meeting or for a walk around Highgate woods. The sun came out and we were able to sit outside with our lunch and play a few more games before it was time to go home.
Thank you to Friends House and BYM staff and volunteers, Muswell Hill meeting, the London Link volunteers and all the young people for making it such a great weekend.