A new event on the calendar of London Link in 2016 was helping Quaker Homeless Action set up their one week shelter that runs over Christmas.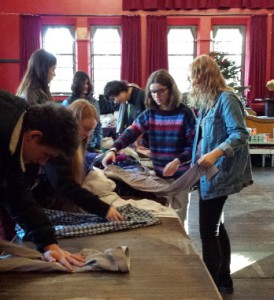 About 10 young people and 10 adults from London Link spent four hours – including a pizza lunch – sorting and folding good quality clean clothes into relevant piles, lugging heavy crates of food (that had filled two large Sainsbury trucks!) up a flight of stairs to the hall, and arranging the cans, bags and containers into a "shop". A few moved a large decorated tree and others helped putting up two tents. The tents provided privacy for basic medical care and acted as as changing rooms to try on the donated trousers, shirts and coats. All this was contained in one hall. Elsewhere, camp beds were shifted and piled up and tables set out for the hot evening meals. 
With the industrious help of the London Link young people, "the shelter was set up faster than any previous year and was better organised," said Mark, an overseer for the day, when he thanked and expressed gratitude to all who helped. During the week the shelter was open, adult volunteers expected to provide a hot evening meal to about 70-100 people each day for the week, and beds for up to 25 people every night.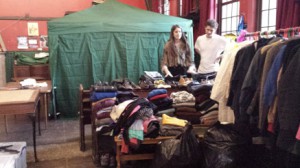 The Quaker Christmas shelter runs the last week of December every year, and is open 3pm – 10pm for people requiring hot food, showers, clothes and medical and social support. For those who rough sleep, are street homeless, there are a limited number of beds for both men and women, and a hot breakfast before 10am.
During the induction to the shelter, we were told how this Quaker shelter differs from many other mostly volunteer run Christmas shelters. Respect guides all that is offered. Volunteers sit and eat with the guests, and chat and drink tea, coffee, juice or water with them. The tents provide privacy that all of us would expect if seeing a doctor or trying on clothes. But probably the most unique aspect of the Quaker shelter is the "shop". Guests are invited to walk through the shop, accompanied by a volunteer, to choose foods they like and fill up to three bags. The trained volunteers chat with each guest to learn of food likes and dislikes and any allergies, and to offer recipes or suggestions on how to make the chosen food last longer. In many shelters, prepacked bags of non-perishable goods are simply given to the guest, so that they have no choice or control over what they receive.
It is hoped that London Link Group will assist in the set up next December. So, if you missed out, you'll have a chance next year. If you did attend, share your experiences so others know what it was like!
Augene