We were in a new space but, as with last year and the year before, setting up the Quaker Homeless Action Christmas Open House included a lot of fun, laughter, a yummy lunch (pizza, cake and cookies!). This over a six hour day of hard work lugging boxes, moving furniture, sorting (mostly new) clothes and (mostly tin) food, scrubbing and cleaning the loos and shower cabin, putting up tents (inside!) and making and decorating the hall and night space (a smaller portacabin).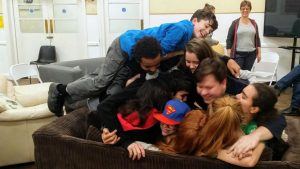 With the new location, at the International Church near Goodge street, there were new challenges. The 'chain' (of people passing delivered boxes and food stuff) had to be longer. It led from the street, down cold metal stairs, to not just one but many different locations! Some stuff went straight to the kitchen, other stuff continued through the hall up a few stairs to a storage space on a stage, and other stuff was detoured to the room that would later become a 'shop' of food and clothes.
A different chain was made to direct stuff straight to the big hall. The hall was much larger and when we arrived couches, chairs and tables were piled near the entrance. Walls were bare and the space felt drab and unwelcoming.
When we finished six hours later, tables were laid out ready for the next day's arrival of lonely and homeless people. They would have a warm, friendly place to eat, play board games or cards, and paint or draw. With lots of heaving, pushing and pulling, welcoming spaces had been created by moving comfortable lounge chairs and the couches into position, and seasonal decorations put on the wall. A Christmas tree with bright lights and baubles graced one side of the room, and throughout the room chains of peace doves had been threaded together and hung by patient and nimble fingers! (The origami doves were donated by Quaker Peace & Social Witness staff at Friends House.)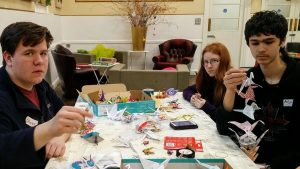 Down the hall, the room that had been overfilled with scattered boxes of clothes and piles of food was now sorted into an orderly 'shop' with items stacked on and under long tables. In the week to come, homeless people would be guided through to choose food and suitable clothing.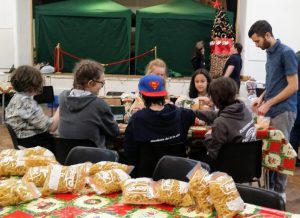 The Open House shelter ran 23rd to 30th December. Unlike other winter shelters, this Quaker space welcomed guests with dogs and was open and serving food around the clock.
Quaker Homeless Action has come to rely on the energy and commitment that London Link folk give to setting up the Open House shelter over Christmas. Noel, from QHA, profusely thanked all the young people for giving up their first Saturday of their Christmas holiday. "Without you, we'd really struggle to get this set up on time," he said.
Here's looking to next December! This is an event when London Link graduates (those beyond the 18 year old limit) are welcome! And if you'll be 18-years old or older next December 2019, you could also volunteer with QHA when the shelter is open and welcoming homeless and lonely people over the holiday season.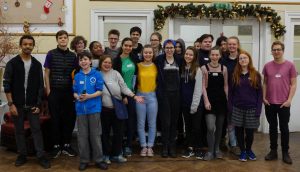 We also managed to get into The Friend, 2nd February 2019.
– Augene