On a not-quite spring 3-5th of March 13 young people and 5 volunteers from across the south gathered in St.Albans Quaker Meeting House.
Although tired out by the week, our energy levels were soon replenished by seeing friends new and old.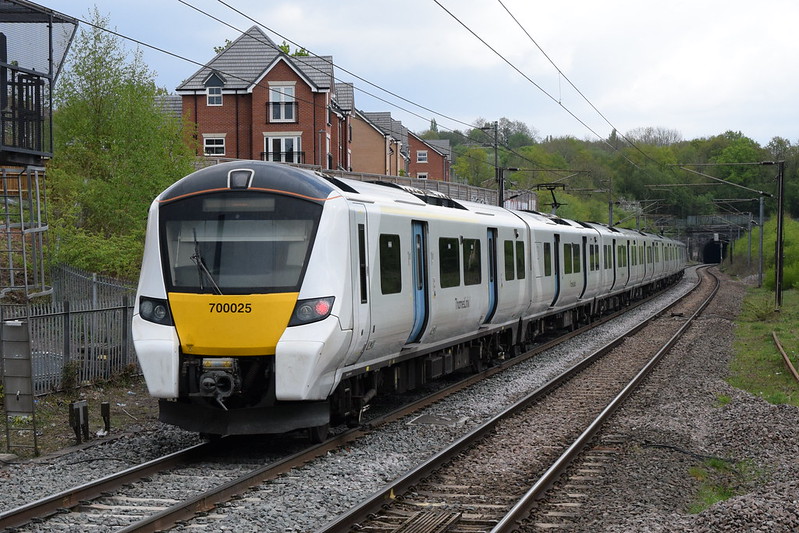 For dinner we had a curry of coconut dhal, vegetable curry, pakoras and rice that filled us up. After that meal's washer-uppers had finished we settled down to watch a film on the projector in main meeting room. We had a short candle lit epilogue and then bed.
At the crack of 8:30am we tided up and joined together to have a veggie cooked breakfast. For one particular participant the morning also marked the dawn of a new age, …age 15. Happy Birthday! In terms of getting up throwing birthday balloons at each other proved very effective.
The first activity of the day was free time in the historic town of St.Albans, with attractions such as the charter market, Roman ruins, a cathedral and the ever popular Tesco Metro and Wilko stores providing places to visit – everyone found something to enjoy.
St.Albans Meeting House is conveniently located close to the town centre, for several hours we opened our exclusive artisan (crisp sandwich anyone?) sandwich shop for participants to drop in. This was also a good opportunity to sing happy birthday and dive into to birthday cake #1.
After letting lunch digest, a few of the participants and 3 of the volunteers went to the leisure centre to try our wits at crossing the inflatable obstacle course. Volunteers struggling with the er…agility, benefited from nice team efforts.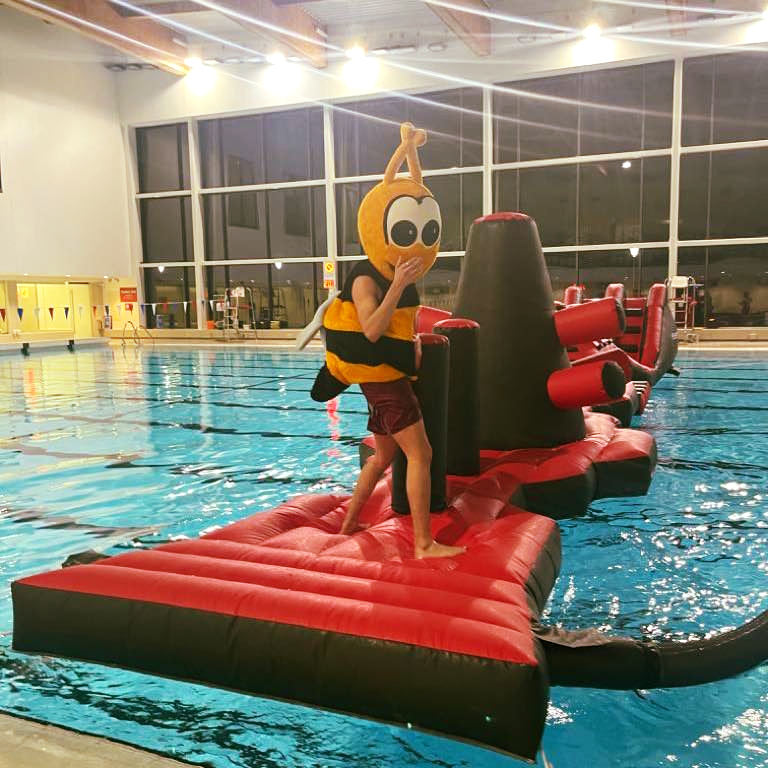 Once everyone was back there was time for some games before starting the main theme session on "What makes you, you? Exploring the world of our own identities". We talked about about what is an identity and the protected characteristics in law. We went on to try to map out our broader identities with post-its. The meeting house floor was covered with colourful clusters of posits, reflecting the differences and similarities between us.
How can we make the meeting a community in which each person is accepted and nurtured, and strangers are welcome? Seek to know one another in the things which are fundamental, bear the burden of each other's challenges and uphold one another. As we enter with tender sympathy into the joys and sorrows of each other's lives, ready to give help and to receive it, our meeting can be a channel for love.

Adapted version of Advice & Queries 18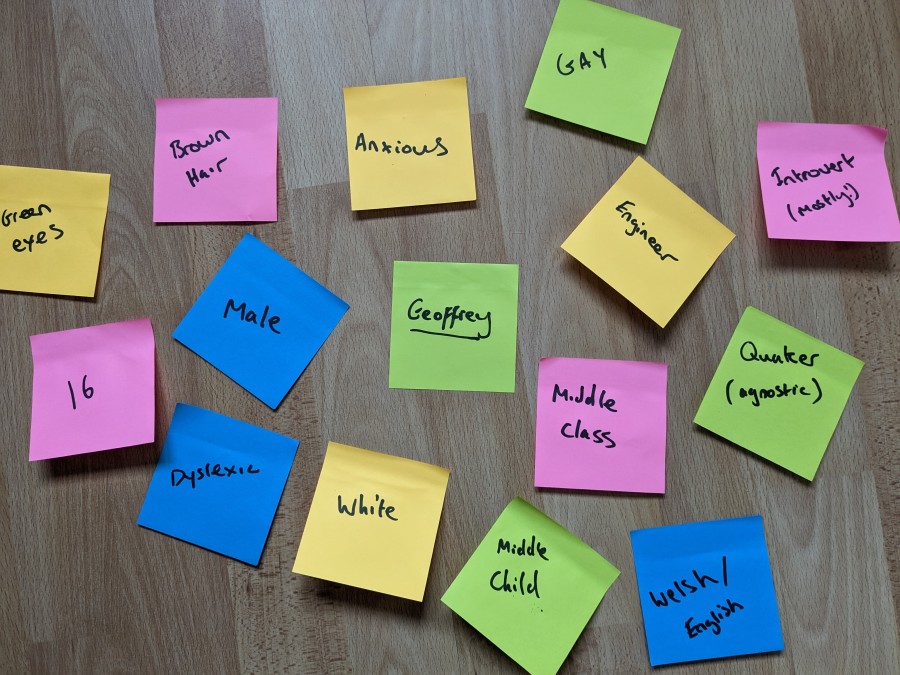 After consent from the group we wandered around the room looking at what people had chosen to put. A very deep respectful silence was experienced whilst we were doing this, perhaps reflecting the braveness, honesty and vulnerability we were all experiencing. We considered the questions of whether the identities we express change depending on who we're with or where we are. What parts of our identities change over time and what stays the same. How do we make sure our identities don't divide us.
It felt like a safe and spiritually connected time.
After some refreshments the volunteers set about making dinner, while the young people organised themselves into playing various games around the meeting house.
A dinner of pasta, pesto, broccoli and tomato was demolished. Cake #2 gently lead us to our open-mic evening, with an eclectic mix of talented and entertaining performances.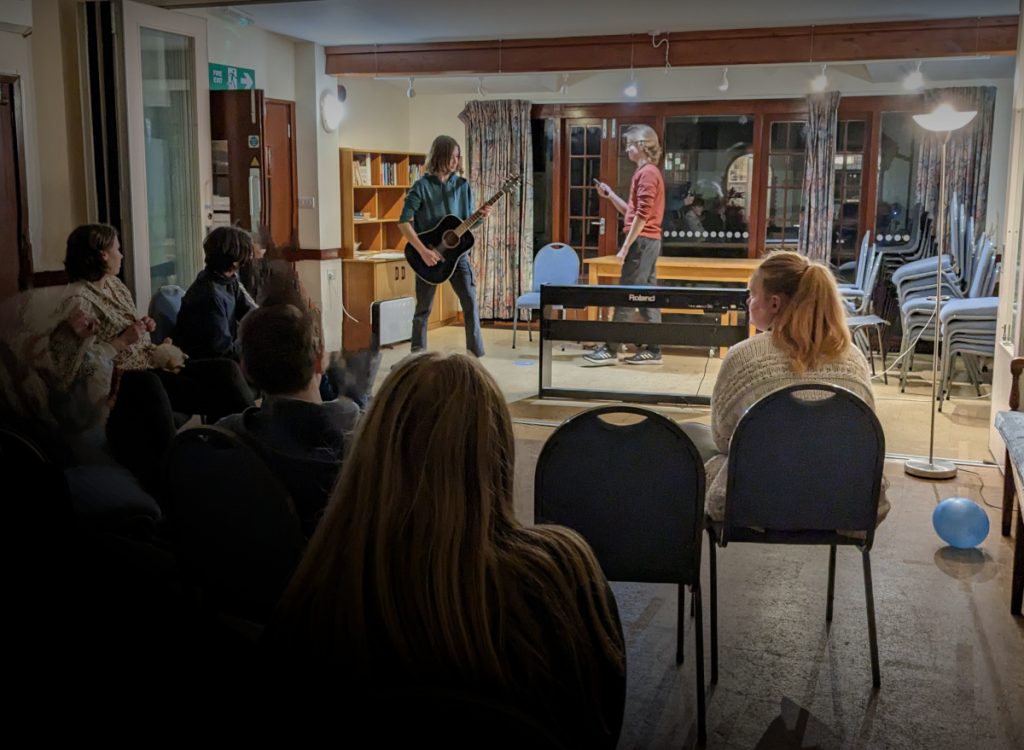 Epilogue followed. With a reading:
Our deepest fear is not that we are inadequate.
Our deepest fear is that we are powerful beyond measure.
It is our light, not our darkness
That most frightens us.

We ask ourselves
Who am I to be brilliant, gorgeous, talented, fabulous?
Actually, who are you not to be?
You are a child of God.

Your playing small
Does not serve the world.
There's nothing enlightened about shrinking
So that other people won't feel insecure around you.
We are all meant to shine,
As children do.
We were born to make manifest
The glory of God that is within us.

It's not just in some of us;
It's in everyone.

And as we let our own light shine,
We unconsciously give other people permission to do the same.
As we're liberated from our own fear,
Our presence automatically liberates others.

"A Return To Love" by Marianne Williamson.
The next morning we got up and reassembled the Meeting House. A very long running cooked veggie breakfast got our hearts, stomachs and minds prepared for Quaker meeting. Some stayed in Meeting whilst others joined a group making clay models.
A lunch of left overs and sandwiches, a few last games and we were ready to head home.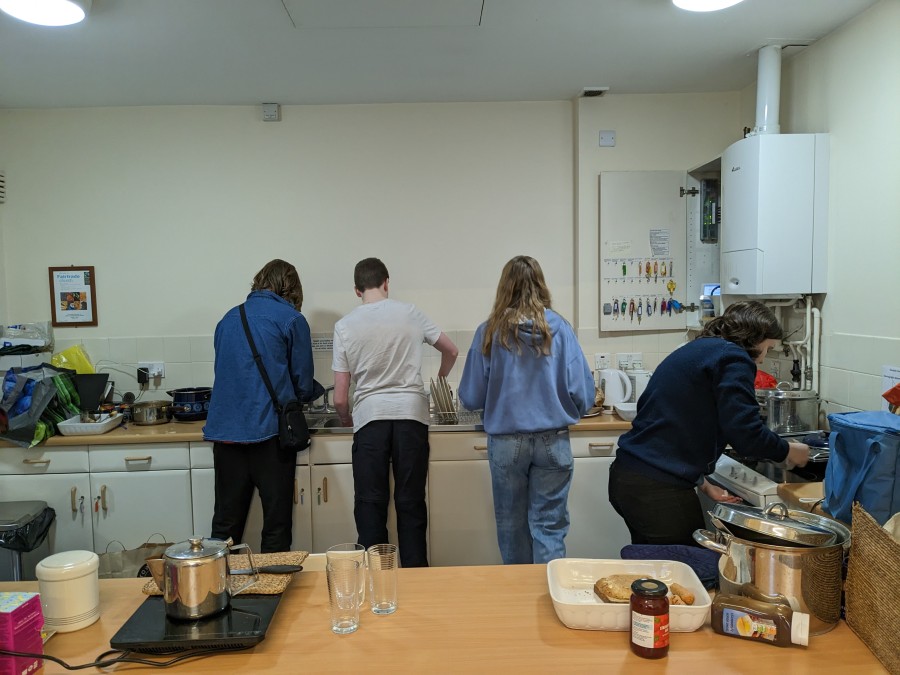 London Link would like to thank St.Albans Quaker meeting for welcoming us again, shifting around bookings and generally letting us make the house our home for the weekend.
Thank you to all the participants and volunteers for an excellent weekend. – Michael, Philip, Amy, Rob and Margarita