On the 23rd to 24th of September London Link visited Forest Hill Meeting.
After getting thoroughly confused by the new London bridge layout, London Linkers arrived at Forest Hill meeting house. 23 of us and 5 volunteers. As everyone was getting hungry for lunch we had just a quick introduction session.  After lunch we headed out to the Horniman museum, The Museum is a curious mix of collections having been started by Frederick John Horniman from the Quaker family that founded the Horniman Tea Company.
We went off in groups to look around at some of the museum's collections, it was a bright sunny day so we spent lots of time in the gardens as well as looking at the animals.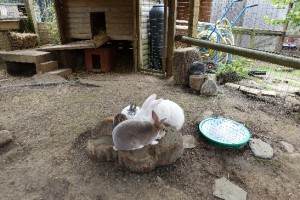 Early evening we headed back to the meeting house for a BBQ, some played games whilst others chilled out. Later in the evening we set up a pop up cinema and watched a film. We had an Epilogue then bed.
Although we had planned a cooked breakfast on Sunday we had a bit of a cooker melt down, so instead we had to make do with just cereal (the horror!).  Before meeting we had some time to hang out; some of the group read through a sketch about going to Quaker meeting. We stayed in meeting for the first 15 minutes, some stayed for the whole hour. As it was another nice sunny day we went down to a local park and enjoyed the zip line and swings.
Once back at the meeting house we were greeted by an amazing spread of a shared lunch which Forest Hill Quakers had very kindly arranged. After lunch we played some more games and generally just enjoyed hanging out and the excellent weather.
We'd like to thank Forest Hill meeting for hosting us, the young people, the volunteers (especially at late notice and travelling a long distance to allow the event to happen) and to Kerri and Jonathan for also planning the event.
Michael, Kerri, Jonathan, Rob, Jen, Simon and Alice