On the 10th to the 12th of March, 32(!) young Quakers and 7 volunteers stayed at Brighton meeting house.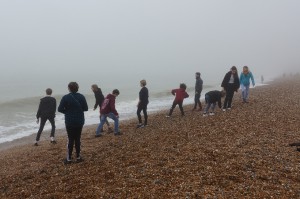 With the Friday London commuter traffic behind us we emerged in a very foggy Brighton. Introductions and 'getting to know you' were followed by our tried and tested Pasta dish. We played some fun games like sardines and then settled down to an epilogue. After that it was time for bed.
Saturday we had a cooked breakfast (veggie) and had a relaxing morning playing board games and chatting with friends. We then walked down to the beach and pier, after getting into groups we had some free time to explore Brighton town.
Once we had all gathered back in the meeting house we made our own lunches, think "sandwich buffet/factory". A short bit of free time and then we went to visit the Waste House.
We were really inspired and amazed that an entire house could be constructed from almost all waste materials. Cat Fletcher from the project talked us through the construction and some of the things they learnt building it. For example how the lower eastern wall cavities are filled with 4,000 VHS tapes which is a product that is very difficult to recycle and will sit in landfill for years and years otherwise.
Back at the meeting house we split into groups to play a number of different games, there was Empire, Mafia and boardgames to choose from or just chilling out.
For dinner we tried something new; we all went to a vegetarian restaurant in Brighton called 'Bombay Aloo' where they do an Indian style buffet (they had been warned! – we had booked the whole of the upstairs). This allowed us to expand our menu for the weekend to some new foods, go somewhere different and gave the volunteers a break from the kitchen.
After we were all filled with curry we went for a night walk along the beach. Epilogue then bed.
Sunday we were up bright and early (OK, it was just me) for breakfast. Before going into Quaker Meeting we talked a bit about the Fly kites not Drones project.
This Sunday was different to the normal Quaker Meeting. Rather than the children and young people having a separate children's group after 15mins into the meeting, they join the main Meeting for the whole hour and were lead in a guided activity that the whole Meeting was doing, (often this referred to as an "All age Meeting").
This was also on the theme of Fly kites not drones. During the Meeting Friends wrote messages of hope, peace and solidarity on kites and we heard some of the struggles of those affected by drone strikes.
After lunch we said our goodbyes and made our way home.
It was fantastic to see everyone at the event and to welcome a number of new faces too. We're very grateful for the support from Brighton Quakers, to Sia and Georgina for coordinating the event and Amy, Phil, Sam, Eli and Michael for all their help.